The eight bells mounted in St Thomas' bell tower were donated by Robert Atkinson, who was a wealthy merchant in Belfast more than 130 years ago. They were cast by John Taylor and Co. of Loughborough and installed in the tower and rung for the first time in late September 1871. In 1965 the five larger bells were retuned and the three smaller bells recast.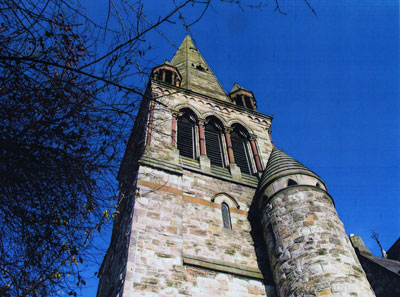 The tenor bell, which weighs over 18.5 cwt., bears a Latin inscription which translates as:
"Robert Atkinson Esq. of Beaumont in this county gave me and my seven sisters to this Church in 1871 in honour of God and St Thomas"
The Society of Bellringers was formed a few months later. By 1890, in addition to service ringing, there was ringing for major national, church, and parochial events. Firing peals were rung at midnight on Christmas Eve, at coronations and at the end of both World Wars. Special peals were rung to celebrate the appointment of new rectors, army victories such as El Alamein, and the Liberation of Paris in 1944. The bells were rung continuously for five hours on VE Day, 8th May 1945.
Muffled peals were rung on the deaths of monarchs, Holy Week services, to ring out the Old Year, to mark the deaths of rectors, at the sinking of the Titanic and after the Battle of the Somme in July 1916.
Members of the society were invited to ring the first peals on new bells installed at Kilbroney, 1880, Coleraine, 1893, Ballymena, 1895 and Bangor, 1899.
2011 was a good year for ringing at St Thomas's. The Society won two Northern District trophies, the Patterson and Cunningham Cups in January and April, respectively, and the all-Ireland Murphy Cup at Dublin in May. You may have noticed an increase in numbers of bells being rung on Sunday mornings and as a consequence we might even win the all-Ireland Attendance Shield for 2011. This increase in ringing numbers is dependent upon the continuing faithfulness of the existing ringers and two English ringers who have been in Belfast since last summer.
That is healthy for the present, however we do need ringers from the parish to ensure that the bellringing skills and our 140 year old tradition of ringing can be passed on. It would be a major loss to the parish and its witness if the bells were silenced through lack of ringers. Bell ringing is a good mental exercise and also a good physical one, not least in the regular climbing of stairs. It requires co-ordination but not extra physical strength. There are many who start ringing at ten or eleven year-old, some even earlier. A recent visitor to our tower began ringing when she was seven and, now a slim thirteen year-old, she rang our heavy tenor bell [approximately 1 metric tonne] with ease. We have one young learner from the parish, Marcus McDowell, who is progressing well, but we need more learners.
Ringing is a skill which can be practised throughout life [Harold McGrath retired a few years ago in his late eighties after over seventy years of ringing] and at any place where there are bells. It is also a very sociable activity and students going to university or adults on business or holiday in England will find a welcome wherever bells are rung.
If you would like to find out more, speak to Duncan Scarlett (Conductor of Bells), the Rector or Churchwardens.
You can see the bell tower and hear the bells being rung on YouTube.
There is also an excerpt from a BBC Songs of Praise programme which was recorded at St Thomas's and shows the bells being rung.
The St Thomas' page of The Irish Association of Change Ringers gives many more details of St Thomas' bells and bell ringing in Ireland.