The organ in St Thomas' Church was built by William Hill & Son of London in 1906 and it dominates the south east corner of the interior. It incorporates parts of the smaller two-manual organ designed for the church by the same firm in 1875. The Choir Organ and console are situated behind the choir stalls, while the Great Organ with its beautiful case terminates the south aisle. This outstanding organ was fully restored to its original specification in 1998 by Messrs N P Mander of London and re-dedicated in 1999. Over the years, most contemporary instruments of this size have been altered or rebuilt. The St Thomas' Hill organ is one of very few to have survived in its original condition.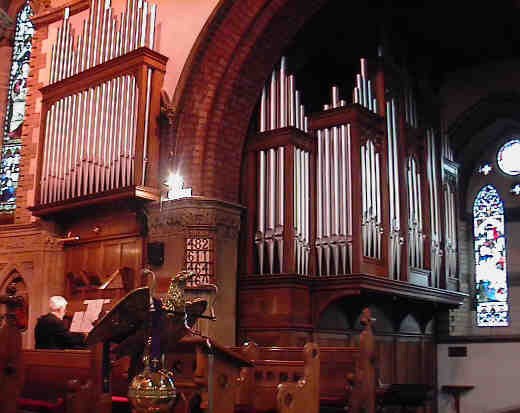 The National Pipe Organ Register comments 'This is a magnificent example of Hill's work. The reeds make a glorious sound and the choruses on Great and Swell are very fine. The Pedal organ, though small, makes a large and solid sound'.
The thorough restoration in 1998, to its original 1906 specification, was made possible by generous funding from: The Lottery Heritage Fund, The Esme Mitchell Fund, The Wolfson Foundation, The Northern Bank, The Ouseley Trust, The O N Organ Fund, and a large number of businesses, institutions and individual donors, who helped St Thomas' Parish to raise the finance required. Our grateful thanks goes to all who contributed.
Hear the organ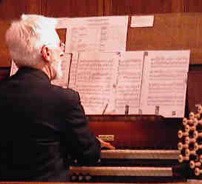 Here is a link to part of the Widor Toccata played on the organ at a wedding in St Thomas's, accompanied by some photos and video.
The Historic Organ Certificate Scheme
The British Institute of Organ Studies has a scheme for compiling a register of important historic organs in the United Kingdom. In 2004, the Institute awarded our organ a Certificate Grade 1 which states:
"The organ in St Thomas' Church has been awarded a Certificate Grade 1 in recognition of it being an outstanding example of an instrument by Hill and Son in 1906, in original condition. It is therefore listed in the Institute's Register of Historic Pipe Organs as being an instrument of importance to the National Heritage and one deserving careful preservation for the benefit of future generations."
Detailed technical description
If you go to the British Institute of Organ Studies you can search for the record of our organ and read the detailed technical description of it. The index number of the organ in the Register is N06926. This link should take you directly to the details of our organ.